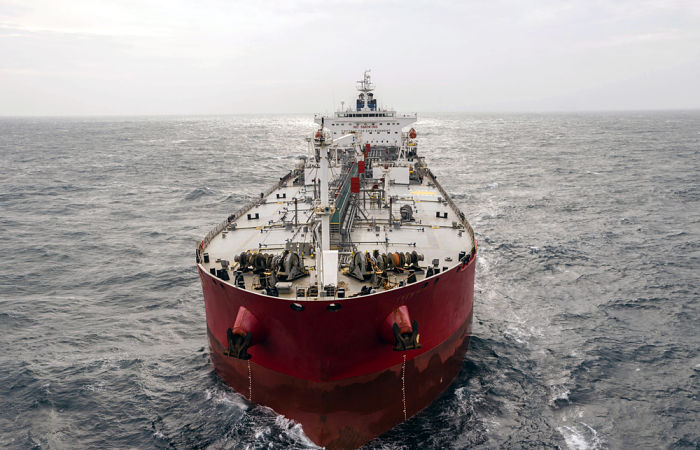 I wrote a brief post about ODME some time back but this post is going to be in detail. More and more companies are now focusing on saving the environment. Oil major do not seek to engage with company that do not consider environmental aspects in their day to day work.
So far so that it is not enough nowadays to just fulfil the legal requirements. Everyone wants us to go beyond legal requirements.
ODME is one of the equipment which ensures environment compliance on board ships.
But there continues to be detention because of ODME non-compliance. These non-compliance are sometime intentional but many times unintentional. Company should focus on developing a safety culture which can take care of intentional non-compliance.
But thorough knowledge of the equipment such as ODME is the only way to avoid unintentional non-compliance. This guide can help us to be more aware of ODME by knowing more about it.
What is ODME for ?
Well if you are reading this, most likely you know what is ODME for. But lets still ask it. Why do we need ODME? Can't we just ban throwing oily mixture overboard and land it with barge.
We are concerned about the environment but there are businesses to sustain. Ship owners would argue that they should be allowed to dispose the water part of the oily mixture into the sea ?
ODME brings a balance between "do not throw oil into sea" and "reduce operational costs" to the ship owners.
But sometimes we forget that the purpose of ODME is to remove water from the slops and not as much oil as is allowed.
How does ODME do it ?
Broadly speaking ODME controls the operation of these two valves shown in the below diagram.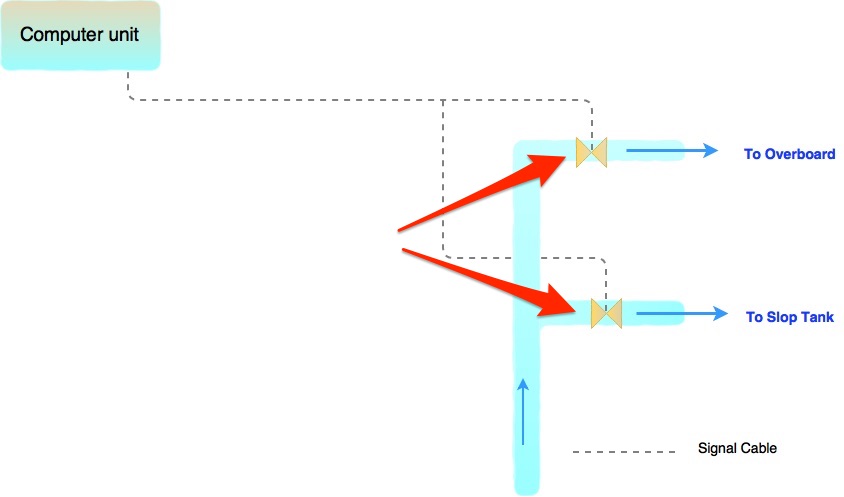 These two valve will never be open or close together. If one is open, the other will be in close position.
We know that Marpol Annex I regulation 34 lists the conditions in which oily mixtures can be disposed into the sea.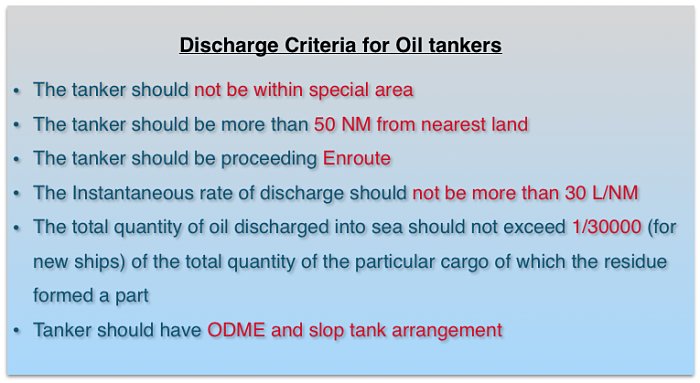 When conditions number 4 & 5 are satisfied, ODME will open the overboard valve to allow the disposal of oil water.  Whenever we exceed any of these two conditions, ODME will close the overboard valve and open slop valve.
Now for doing this task, ODME need to  measure
Instantaneous rate of discharge to ensure that it is not more than 30 L/NM
Total quantity discharged to ensure that it is not more than required
So lets see what all components help ODME measure these things.
What all components make ODME
If you remember, the formula for Instantaneous rate of discharge is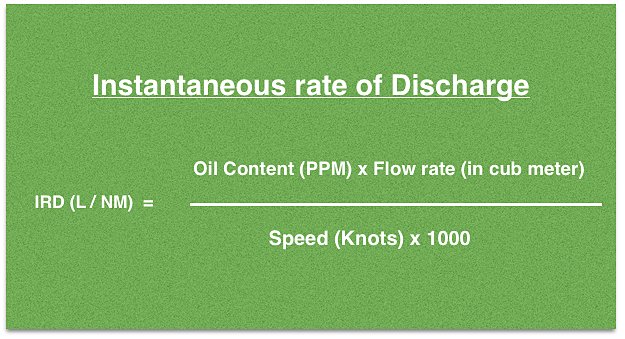 Now if ODME need to measure IRD, it surely need values for oil content in PPM and Flow rate.  Speed connection is usually given either from log or GPS.
All these values are fed to the computing unit of the ODME. Computing unit does all the mathematical calculations to get the required values. Most of the times you will find the computing unit in Cargo control room. Now lets see how and from where the computing unit gets these values
Flow rate 
ODME computing unit gets the flow rate from flow meter. A small sample line goes from the main line, pass through the flow meter and goes back to the main line. Flow meter calculates the flow in m3/Hr and gives this value to the computing unit through a signal cable.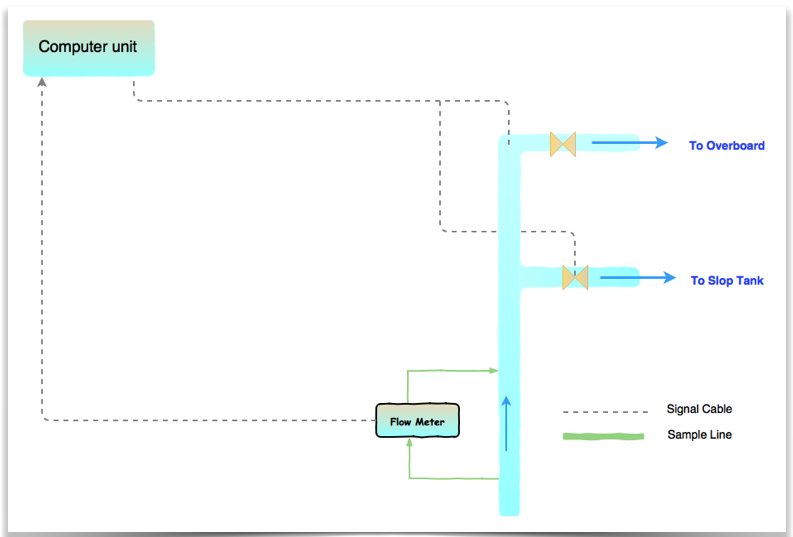 Measuring PPM
Measuring cell is the component that measures the amount of oil (in ppm) in the water. Measuring cell is located in a cabinet called "Analysing unit". Most of the times you will find "Analysing unit" in the pump room.
The measuring principle relies upon the fact that different liquids have different light scattering characterstics. Based on the light scattering pattern of oil, measuring cell determines the oil content.
The sample water is passed through a quartz glass tube. And the oil content is determined by passing this sample water in different detectors in series.
But to measure PPM in a water sample, a sample from the discharge water need to pass through the measuring cell. This job is done by a sample pump.
Sample pump draws the sample from the discharge line before the discharge valves. This sample is sent to the measuring cell (in analysing unit) for measuring the oil content and then sent back into the same discharge line.
It is important that sample pump not run dry or with excessive discharge pressure. To avoid this situation, a pressure sensor is fitted inside the analysing unit. This pressure sensor measures the inlet and outlet pressure of the sample pump.
Measuring cell should always get the continuous flow of the sample so that the most current sample is analysed. The pressure sensor also eliminates the possibility of running the ODME with sample valves closed.
The measuring cell need to be cleaned regularly during the operation. This is to avoid any deposits of oil traces around measuring cell which can give wrong readings. To clean the measuring cell, ODME runs cleaning cycle in pre-defined interval during its operation. The cleaning cycle involves flushing the cell with fresh water.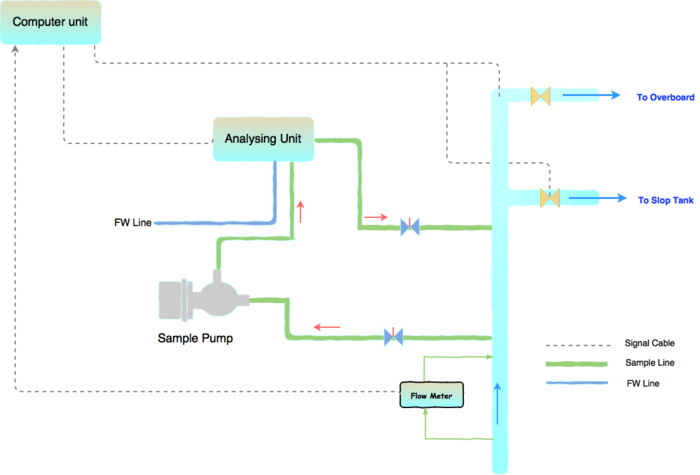 Cleaning line and sample lines into the measuring cells are segregated by pneumatic valves. So when cleaning cycle is initiated following takes place
The pneumatic valve of the fresh water line into the measuring cell opens
The pneumatic valve of the sample line into the measuring cell closes
If the ODME has provision for detergent injection, the required amount of detergent will be injected during the cleaning cycle
We need to make sure that the detergent tanks is not empty and we use maker recommended detergent only.
So there are three additional lines you will find going into analysing unit for cleaning cycle.
Fresh water line for the cleaning of measuring cell
Air line for operation of pneumatic valves
Cleaning solution line for better cleaning of the measuring cell
The analysing unit sends the data values like pressure and oil content to the computing unit in the CCR. Depending upon the make, the analysing unit send these values either directly to computing unit or through converting unit.
If a converting unit is fitted, it may be doing additional tasks like controlling the cleaning cycle.
The computing unit calculates the IRD based upon all these values fed to it. If the IRD is less than 30 L/NM, it gives the command to solenoid valve assembly to open the overboard valve and close slop recirculation valve. When the IRD becomes more than 30 L/NM, it closes the overboard valve.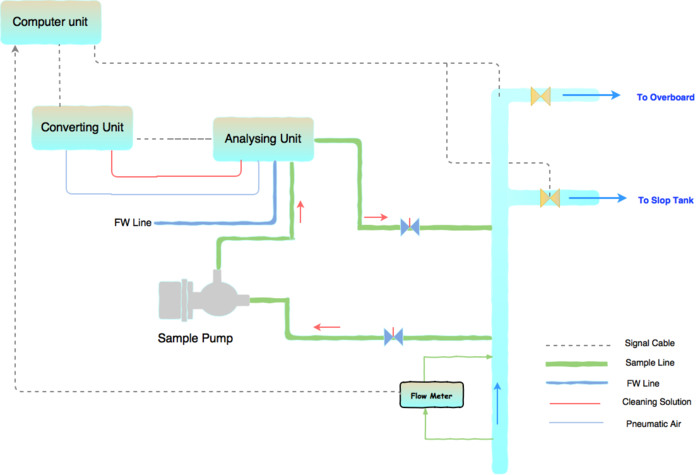 The computing unit also calculates the amount of actual oil that has been discharged to sea. The requirement is that we cannot discharge total oil more than 1/30000 of the total cargo carried. Before we start ODME, we need to calculate and feed this maximum allowed value in the ODME. This we will discuss later in this post.
But as you can see, slowly we have created a basic line diagram of ODME. Now if you can take out the line diagram of ODME on you vessel, check if you can relate to it. I randomly took a line diagram of one of the make to see if we can identify the parts and line of ODME ? I could, can you also identify in the below image ?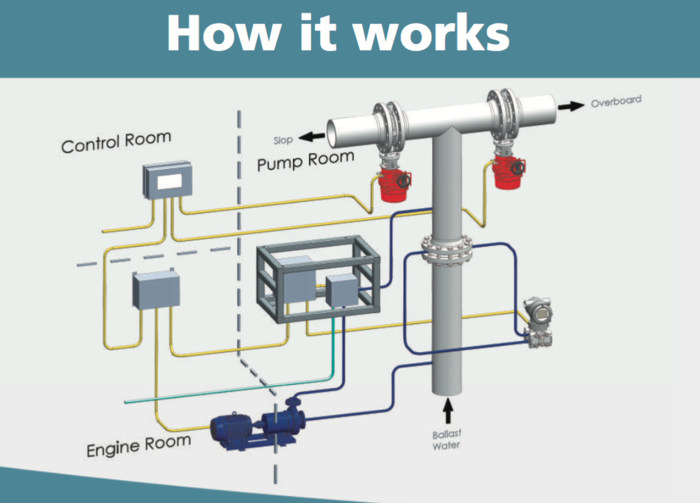 If you could, Very well. But if you still want the answers, here is it in the below image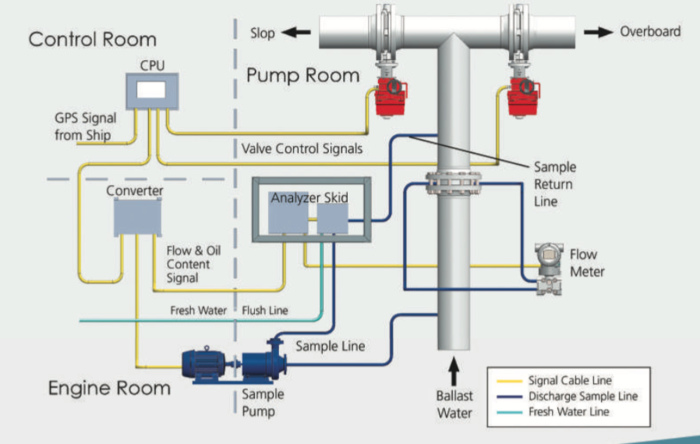 Now that we are clear on what ODME is made up of and about the components of ODME, lets see how senior deck officer should operate ODME.
Operation of ODME
As we know ODME is required under Marpol Annex I, which deals with pollution aspects related to oil cargoes. Now in 10 steps lets see how we should use the ODME.
Lets assume we are on a product tanker of 45000 DWT which has just discharged an oil cargo of 29000 MT (30000 m3 @ 15 C). This tanker need to clean these tanks which were carrying total oil cargo of 29000 MT. How to proceed with cleaning and decanting the slops with ODME ?
Step 1: Set the total oil quantity in ODME
Marpol has put a limit on how much total oil we can discharge in the wash water. This limit is 1/30000 of the total cargo carried. So in our example of product tanker, lets calculate
Total Cargo carried in the tanks to be cleaned : 30000 m3 @ 15 C
Total oil from the washing that can be discharged = 1 m3 (1000 litres)
Set the total oil limit as 1000 litres in ODME. Lets demonstrate this in ODME of make Rivertrace engineering.
To set the total oil limit, go to Oil dischrage under Mode selection by pressing the enter button (center one).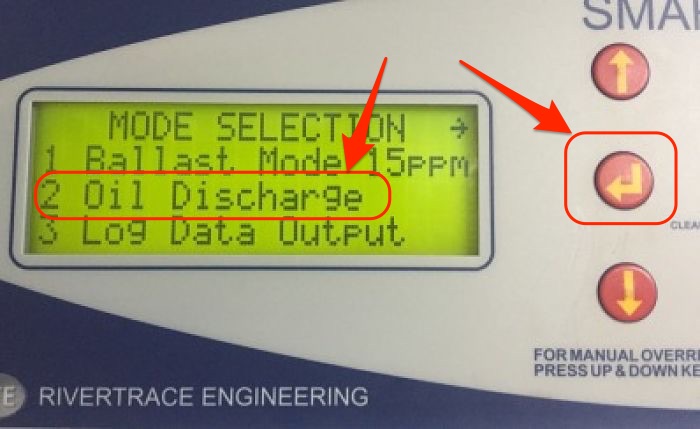 Under "Oil Discharge Set Up", go to "alarm limit" and press enter.

Set the new value by Up and down arrows and press enter.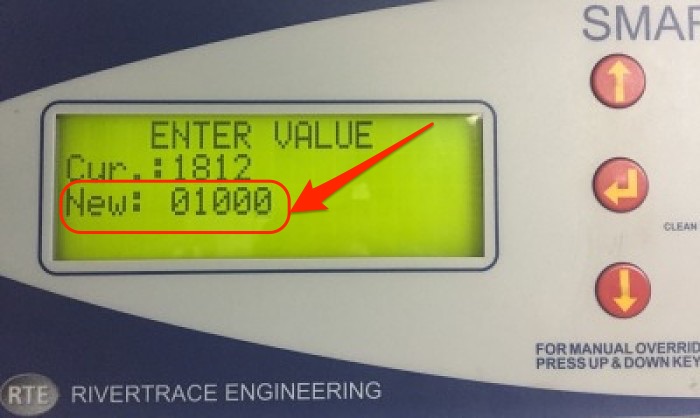 It will ask to confirm, which we will and we have now set the max oil discharge limit.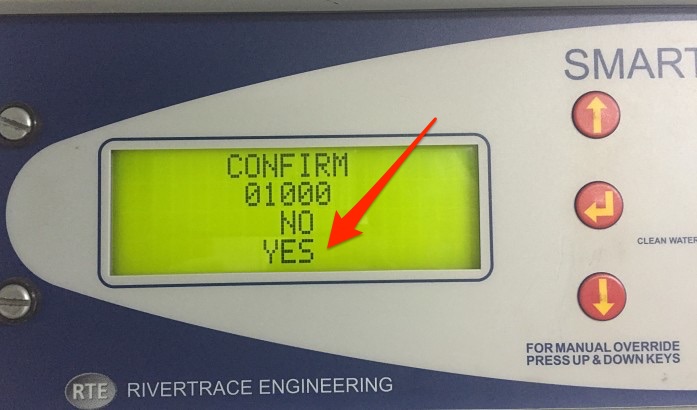 2. Allow minimum 36 hours settling time
We will wash the tanks and collect the slops in slop tank. But before we can start pumping out oily water through ODME, we need to allow a minimum of 36 hours settling time. This settling time ensures that the oil has separated completely from the water.
We may argue that if our discharge is limited to 30L/NM, then what difference does it make with settling time ? But the fact is that even when we can use the ODME to discharge oily water, we must ensure that the oil is minimum in the water.
3) Check all other conditions in Marpol Annex I, Reg 34
We must ensure that other conditions related to vessel being enroute, minimum speed and distance from nearest land is OK.
4) Prepare ODME for operation
After we are satisfied with all conditions, we can prepare to start overboard discharge of the slops.
We already discussed what components are present in ODME and what are their functions. So we know what we need to do to set up ODME for operation. Offcourse it could be little different on different vessel but most of the things will be common. We must check and locate each item mentioned in the manual. Here is recap of some of the common items need to check before ODME operation
Check if the inlet and outlet valves for flow meter are open
Check if Fresh water supply is available and all valves are open
Check if sample line inlet and outlet valves are open
Check if air supply for pneumatic valves is on.
Check if cleaning solution is present in the container
Check if power supply is on for the converter unit
Check & rotate the sample pump shaft with hand to check if it is free to move
Also check and confirm that all values are in auto and not in manual mode. These values to check are for flow rate, speed and PPM.
5) Start the cargo pump in recirculation mode
Once we have set up the ODME, we can start the slop tank pump containing oily water in recirculation mode. Now even when it is running on the recirculation mode and overboard valve is closed, on some equipments you can check the IRD in the CCR ODME screen. If you see some strange valves, for example high PPM of oil in sample, stop the pump and
either start a cleaning cycle manually, if that function is present in the ODME
or Clean the measuring cell manually with maker's tool as would be described in the ODME manual
6) Start overboard discharge
After all the above steps are completed and verified, we can start the ODME to commence overboard discharge.
7) Monitor during entire overboard discharge operation
Now if everything is going fine, carefully monitor following
The discharge water is not making any visible sheen on sea surface. Remember you dont need any torch to see that. You need to do the overboard discharge operation during daylight only.
Check and monitor the values for oil in water (PPM) and IRD. If IRD is close to 30 L/NM, you dont want it to cross 30L/NM and stop the operation. In this case you can reduce the pump speed to reduce the flow. With flow rate reduced, the IRD will reduce too.
Monitor the oil water interface level by MMC or UTI tape. This is important because we are serious about the environment. We want to stop the overboard discharge few centimeters before we reach the oil surface. This shows our seriousness to save the environment. The also shows that our aim was not to dischrage as much oil as we can but was to discharge as much clean water as we can.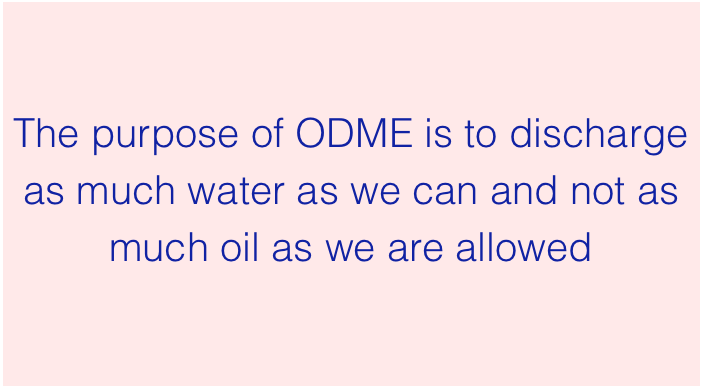 Moreover we do not want to spoil our ODME system by allowing the oil to enter into the system.
8) Stop the overboard discharge
The ODME will stop automatically when either the IRD exceeds 30L/NM or we have cross the total oil dischrage limit.  But we should be ready to stop the ODME manually too. We should stop the overboard discharge manually when either of the following happens
We have reached the interface level
Rapid increase in PPM. We can continue if we are sure that oil water interface is still very far.
We see some oil sheen on the sea surface
9) Do not start the ODME multiple times
If the ODME is stopped automatically because of IRD exceeding 30L/NM, we must not start the ODME again. Some people start the ODME again to check if they can still be able to reduce the onboard quantity. Even when you can argue that you are doing so through ODME, you are actually voilating MARPOL unintentionally. Many vessels were detained by Paris MOU for multiple attempts to start ODME. The detention has a logic and following reasons
By multiple starts, the operator is trying to throw as much oil overboard as he can
Once ODME stops automatically, the operator need to allow further 24 hours of settling time to start the ODME again. This is because if the level of oil/water mixture is very less, on recirculation this would have churned. Now to have the water separate out from oil, we need to allow it 24 hours.
But if the ODME had stopped because of some error when the water level was still high, there is no need to wait for another 24 Hour settling time.
9) Perform the cleaning cycle
Each time ODME is stopped, a cleaning cycle will start. But if it does not start automatically, we can start the cleaning cycle manually.
10) Close all the valves and system
Once the ODME operation is complete, we can close all the valves and electric power. We can then make a entry in oil record book for this operation.
Conclusion
There has been number of detentions and hundreds of observations on incorrect use of ODME. These detentions also include willful incorrect operation of ODME.
There were few cases where seafarers had bypassed the ODME even when ODME was in perfect shape and working. This was because, the seafarers sometimes feel that an equipment such as ODME is difficult to operate.
But if we know our equipment well, not only these will seem easy to operate but also will operate perfectly.
Share this: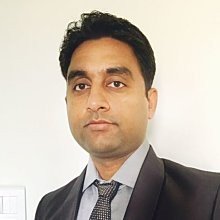 About Capt Rajeev Jassal
Capt. Rajeev Jassal has sailed for over 24 years mainly on crude oil, product and chemical tankers. He holds MBA in shipping & Logistics degree from London. He has done extensive research on quantitatively measuring Safety culture onboard and safety climate ashore which he believes is the most important element for safer shipping.
Search Blog