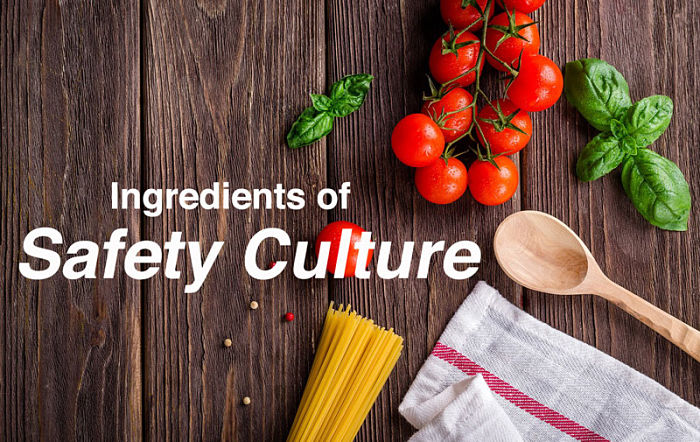 Have you ever watched a cookery show where they teach you how to cook a dish?
If you had your eyes on that kind of show for a split second, you would know that the first thing they tell you is "what all ingredients would you need to cook that dish".

To start with the concept of safety culture is not so much different.
We need to know the ingredients and we need to get all these ingredients on the table before we can even start.

So what is the safety culture made up of? We will know this if we know what exactly we are trying to cook with safety culture.
Safety culture concept: What are we cooking?
So what exactly are we trying to achieve with the safety culture concept?
All we want is to have the people willingly follow company procedures. Without being forced to do it.
Isn't it?
Because if everyone followed procedures, safety would be guaranteed.
Yes, it is as simple as it seems.
But while the outcome looks simple, the process to get there is not.
Making people follow all the company procedures is quite a difficult task, especially in today's world where everyone is google genius.
And when seafarers do not follow safety procedures and guidelines, it does not always mean something is wrong with the seafarers.
There are other elements of safety culture that could be wrong, rather than just people.
So what are the elements of safety culture?
What is the safety culture made up of?
Broadly, there are three elements that make the safety culture. These are

Now don't get perplexed by these heavy terms.
I will make it as simple as I can.
1. Safety management system
If we want people to follow the company procedures, the procedures need to be made for people who have to follow these.
If the procedures are not made for them, irrespective of how good seafarers you have or how high salaries you pay them, they would not follow these procedures.
Seafarers should be able to connect with the procedures. They need to believe in these procedures.
Let me give you a real-life example.
I know a well-known ship management company that came up with a strange procedure in their SMS after an anchoring related incident.
This procedure required every master to seek the permission of the marine superintendent before anchoring.
Only a handful among hundreds of Masters followed this procedure.
The point I am trying to make is: no matter how good or bad a policy/procedure is, it is of no use if no one is following it or worse no one wants to follow it.
A Good safety management system
If we want to have a good safety culture, we need to have a good safety management system.
And a good safety management system is not the one that is good for the company but is the one that its users (seafarers) believe is good.
The procedures need to be simple, easy to grasp, and easy to follow. The procedures need to be as close as possible to how the seafarers actually work.
For example, what would be safer among these two situations
Company procedures require 20 points checklist for enclosed space entry and no one follows it to the level that even the gas check before entry is also not performed.
The company just requires 3 points before enclosed space entry. The gas check of the compartment, carrying a walkie-talkie and a person standby near the entrance of the compartment: Every seafarer religiously following this.
And if you are wondering about a third option which is everyone following 20 points enclosed space entry checklist: let me be clear, this option hardly exists unless, on a vessel, the number of enclosed space entries is only a few per year.
In any case, I am not debating here which procedure is right or wrong. I am just debating which one among the two is safer.
And the above example is over-simplified to get to the point I am making.
It is better to have simplified procedures that everyone follows than to have perfect procedures that no one follows.
And believe me when I say this. The problem with the Safety management system in the maritime industry is that these are perfect. Perfect to the extent that these are not easy to follow.
P.S.: I will cover "what a good Safety management system would look like" in detail in the different blogs.
2. Psychological Factors
Psychology of the seafarers and shore staff is an important element of the safety culture.
For example, let us say we have a good safety management system in which procedures are simple and easy to follow.
Would it mean the people will always follow the procedures?
Well, not necessarily!!!
Psychological factors such as seafarer's perceptions regarding safety also influence compliance.
For example, think of a person with the perception that if it is God's will, the incidents will happen anyways.
A seafarer with that perception will have risk-taking behavior and irrespective of how good the SMS is, may not follow the procedures.
This is called Fatalism.
In his study on safety culture on tankers, Jon Ivor Havold found Fatalism as an important factor for safety culture.

Psychological factors include many such perceptions that affect safety behavior.
These perceptions include seafarer's perception of
Management's commitment to safety
Training provided to them, and
the work environment
The points are simple.
Perception of management's commitment to safety
If seafarers think that the company is not serious about safety, they will not be serious either.
But it is not about if the company is actually serious or not, it is the perception of the seafarer's that matters.

Perception of the effectiveness of the training
The same goes for the safety training provided to the seafarers.
If seafarers have the perception that the training being provided to them would in no way help them in being safe, the training will not contribute to the safety culture and overall safety onboard ships.
Again, it is all about the perception of the seafarers about training than the training itself.
Perception of work environment
Perception about the work environment also plays an important role in safety culture.
As per the seafarers working on ships, does the work environment onboard ships support the safety culture?
Do they think they have sufficient crew according to the trade as well as the condition of the vessel?
Does the crew feel physically or mentally tired?
These factors affect the safety culture because physically or mentally tired seafarers cannot be the agent for safety culture.
There are many factors that influence these perceptions. All these are covered under a broad term "Psychological Safety".
P.S.: I will cover "psychological safety" in more detail in a different blog.
3. Behavioral factors
Once we have taken care of the first two elements of safety culture, it all comes down to the actual behavior of the seafarers.
Behavior-based safety can be defined as an approach to managing the people side of safety.
So even when everything else is perfect, seafarers may still behave in unsafe manners.
But why would they do that?
Let us understand this with a common example of the E/R crew not wearing safety helmets while working in the engine room.
In this case, behavioral safety is about understanding this behavior of the engine room crew.
Not wearing the helmet may cause head injury but there are also chances that nothing would happen.
But not wearing helmet provides immediate and definite rewards, which is comfort and ease of doing work.
So the E/R crew trade-off the safety for these conveniences.
Let us take another example.
A deck officer has to read a pressure gauge reading on the main deck which would only take 15 seconds.
But getting ready with the proper PPE for that would take about 10-15 minutes.
The deck officer may trade-off his safe behavior to save about 10-15 minutes of his time.
And guess what, he/she would also have a feeling of being rewarded in the form of the increase in productivity or simply with the save of time.
The point is that people do not behave in an unsafe manner just because they are insane.
They behave in a manner that they do because it seems to them the more preferable option to complete the task.
Managing behavioral factors aims to change this preference.
If we are able to change their behavior in such a way that the seafarers prefer safe ways to complete a task, we can expect safety standards to improve.
But changing the behavior is not a simple task.
That is where terms like behavior-based safety (BBS) and behavior management comes into play.
P.S.: I will write about "how to manage the seafarer's behavior to improve safety" in a different blog.
Conclusion
If we wish to improve safety standards onboard our ships, we need to invest our time in improving safety culture.
And before we can even begin with safety culture, we need to understand what it is made up of.
The concept of safety culture is not difficult to understand but is difficult to implement.
A good safety culture brings a sense of self-regulation among seafarers with regard to safety.
But to be able to do that a company needs to have a good safety management system. The one that can easily be followed.
Next, the seafarers need to have a good perception of everything related to safety.
They should be able to believe in the company's commitment to safety.
They should have a good perception of the safety training that they go through.
And finally, they should have a good perception of the work environment onboard ships.
But even when we have a good SMS and good perception of the safety-related matters in the company, it still requires seafarers to behave in safe manners.
The company needs to manage the safety behavior of the seafarers effectively to improve safety culture onboard their ships.
Share this: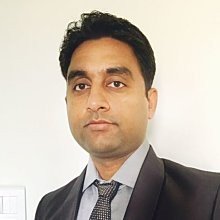 About Capt Rajeev Jassal
Capt. Rajeev Jassal has sailed for over 24 years mainly on crude oil, product and chemical tankers. He holds MBA in shipping & Logistics degree from London. He has done extensive research on quantitatively measuring Safety culture onboard and safety climate ashore which he believes is the most important element for safer shipping.
Search Blog